Virtual data room market insights
Virtual data rooms are an inevitable element of modern dealmaking. More and more Indian companies find the unique benefits of digitizing their projects and transferring collaboration into online data room spaces.
The most challenging step of virtualizing data handling is finding the right virtual data room software for your specific case. Below we discuss crucial aspects for comparing data room service providers for India-based businesses.
India's virtual data room market
First, let's recap virtual dataroom history. The traditional, i.e., physical, data rooms have served businesses since the 19th century. They provided a space for confidential document storage and exchange.
A virtual data room is a business tool that allows companies to upload corporate documents to a secure online repository to keep them safe, organized, updated, and easily accessible. It's a digital workspace that simplifies and accelerates business processes and improves teamwork.
The concept of the virtual data room came into play in the late 1980s and represented digital platforms that assisted companies with performing corporate due diligence. In less than two decades, virtual data rooms have permeated many niches by working as online repositories, collaboration platforms, and digital boardrooms.
As the Indian economy began to emerge, the local digital space quickly adapted, introducing virtual data rooms to companies across many industries. The most common virtual dataroom use cases for the Indian market include international mergers and acquisitions (M&A), corporate due diligence, and real estate management.

In addition to the rapidly evolving economy, a large portion of India's population is highly technology-driven. Here are a few quick facts:
India is the second-largest online market globally, with over 560 million internet users as of 2021.

The Digital India government plan started in the mid-1990s with the purpose of enabling and empowering e-governance nationally.

India's public cloud services market is expected to reach $7.4 billion by 2024 at a compound annual growth rate (CAGR) of 22.2%.
However, even with the rise in technological growth, India still lacks nationally-based virtual data room providers. This prompted local entrepreneurs to seek out global data room companies capable of accommodating the Indian market.
How to compare data room providers
While Indian data room service providers are gaining momentum, the international market is overflowing with options. Such an abundance made it rather tricky to navigate available solutions and choose the best fit for your case. For an organized and productive virtual data room comparison, consider the following:
Data room features

Virtual data room security

Data room tools

Virtual data room prices
Data room features
A virtual dataroom first has to be functional. This means that you will need to look at the software's specific characteristics to see how they can benefit your project. Since virtual data rooms are most typically used for storing and exchanging documents, the key features include:
File management and organization: drag-and-drop uploading, automated indexing, format versatility

Document-level security: granular permissions, dynamic watermarking, fence view
Detailed user management: role-based access privileges and personalized notifications

Activity reporting: detailed activity tracing and automatic highlighting of neglected areas
Usage convenience: web-based access, smartphone apps, multilingual interface, single sign-on for multiple projects
Virtual data room security
Security is essential when it comes to confidential data handling. The best virtual data room providers make sure security is achieved on several levels, including physical servers and software protocols.
Data room service providers can offer both cloud storage and physical storage options. Whichever the case, server facilities should undergo independent auditing according to industry-specific standards. Here are some of the certificates and compliances you should look for during virtual data room comparison:
ISO/IEC 27001

SOC 1 & 2

GDPR
As for the software, the data room provider you go with should facilitate safe and convenient file exchange with features like data transfer encryption, multiple-factor verification, IP-address restrictions, and fail-proof recovery strategies.
Case-specific data room tools
Depending on your industry and the type of project for which you will use the virtual data room, there are specific features you may need. However, there are also several tools that can come in handy in various scenarios. For instance:
Built-in Q&A allows data room managers to address questions and concerns in a timely manner

A View-as option lets administrators stay in control of individual rights and possibilities for each dataroom user

Real-time document redaction helps protect particularly sensitive data during projects that involve multiple parties

Video-call integrations bring substantial value during board meetings, remote collaborations, and negotiations

The best strategy for identifying the necessary virtual data room software tools is picturing a step-by-step project map with all the sub-actions and participants. This way, you will have a distinct idea of what tools might make your job easier — and go from there.
Virtual data room prices
Apart from being functional and easy to use, the virtual data room has to also fit within your budget. If you're new to data rooms, it's crucial to understand the different pricing approaches that virtual data room providers take:
Per page or per document

Per GB

Per user

Flat fee
The per-page model is considered the least popular as the number of documents in large transactions can be quite extensive and drive the price over $100,000. Instead, GB and user-based fee structure work better for smaller companies that don't require much digital capacity.
The fixed-fee approach to data room pricing is the most transparent for all-sized companies. Depending on the provider and the services they offer, the cost can range from approximately $200 a month to $4,000-5,000. And again, the most effective strategy for making the right choice is defining your company's specific needs and preferences.
Top Data Rooms:
Recent virtual data room market trends
Understanding the market is a contributing factor to virtual data room selection. Other elements include characteristic tendencies and rising trends.
The most significant shift to digitization came when younger generations entered decision-making positions. The users' trust towards technology, particularly cloud-based solutions, provided limitless opportunities for virtual data room providers.
However, there were other advancements that contributed to the rapid expansion of the dataroom market. For instance:
The M&A market continues to reach new all-time records as the companies worldwide strive towards sustainability, long-term strategizing, and reaching wider audiences. M&A is one of the primary uses of virtual data room software, meaning that providers will keep focusing on delivering more services and features.
Note: According to a Refinitiv report from September 2021, the number of M&A deals has already exceeded 40,000, with a total approximate value of $4.4 trillion. In 2020, the full-year of deals valued $3.59 trillion—beating a previous record.

Artificial intelligence helps to speed up and automize many processes, such as document sorting, filtering, and editing. Additionally, as AI technologies evolve, data room providers find more ways to incorporate them into their offerings.

Blockchain technologies are taking virtual data room security to a new level. Although many established providers already employ top-tier safety protocols, the introduction of blockchain allows users to feel more confident when using data room products.

Working from home started as a pandemic-induced adjustment but quickly became a new normal for companies that saw the benefits of remote collaboration. This resulted in increased demand for virtual data rooms, as they enabled businesses to process large, high-stake deals remotely.
Learn More About the Best Virtual Data Room Providers
What makes up a good virtual data room?
VDR market offers a number of virtual data room solutions. So what should you expect a good data room provider to have? These are the key aspects of the best virtual data rooms:
User friendly interface. The easier it is to surf the data room software, the more interest such a product will have amongst potential users. Virtual data rooms with clear and lag-free interfaces that are easy to set up gain more trust and help companies to cooperate with third parties more efficiently.
Features for secure document sharing and storing. This includes various services that enable the safety of your data. Some of the common features are fence view, digital watermarks, remote shred, encrypted archives, multi factor authentication, etc. Many providers also offer redaction, which allows certain restrictions of access to all the personally identifiable and sensitive info.
Collaboration tools. Online data room providers with built-in modules for communication are a popular decision for many virtual data rooms. Such features are especially useful for companies that undergo the due diligence process since all the emerging issues can be solved in a breeze without leaving the virtual data room.
Access settings. An advanced virtual data room allows the administrator to control who can enter the space, become authorized users, or upload files and restrict access to certain files when needed.
Ability to monitor data room activity. A good data room provider enables administrators to track who views what and for how long. For example, if you notice prospective investors' particular attention to some files, this could speak about a certain concern. Knowing that you can react proactively.
User-management. The data room industry is all about granting users easy access to piles of information. And the effortless organization is a key here. Administrators of virtual data rooms usually can benefit from such collaboration tools as bulk invitations, role-based access settings, group setups, custom email notifications, and more.
Outstanding support. The main difference between a physical data room and all the virtual deal rooms is that you can get more help online in case of any issue arises. Popular virtual data rooms provide round-the-clock assistance by several channels of communication: online chat, phone, or email
File organization. Not only secure document sharing is vital for traditional data rooms, the way all those files are stored and organized matters as well. A simple and transparent data room arrangement simplifies the user experience.
Reports. Reporting feature inside virtual data rooms is helpful in many fields — from investment banking to collaboration on the team. Activity reports enable administrators to analyze users' performance, control the document access security, adjust the overall strategy, and more.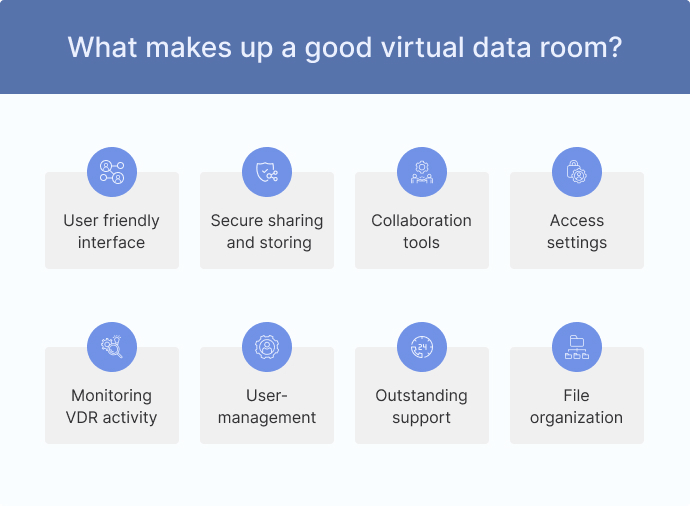 Top 3 data room use cases
As mentioned above, virtual data room software can streamline nearly any process, from a small firm's internal collaboration to enterprise-scale mergers. However, the top three use cases that define and shape the virtual data room market are:
M&A and due diligence. With the number and value of mergers and acquisitions increasing each year, virtual data rooms became more of a necessity for smooth deal processing. Certain data room providers specifically focus on M&A transactions and offer services and tools for every deal stage.

A well-structured data room offers the most value during the due diligence phase. All parties can provide and access the necessary information in a matter of minutes and, therefore, make faster, more practical decisions.

IPOs. Involving a great number of various experts, including accountants and lawyers, in the process presents a unique challenge for going public. A virtual dataroom can help you gather all the required documents in a centralized space and calibrate individualized user access permissions.

Investment banking. In addition to M&A and IPOs, several sectors, including risk management, corporate research, and portfolio management, can benefit from the expertise of investment bankers. Virtual data rooms help investment banks improve accountability, optimize collaboration, and process deals faster.
Other use cases could be found on our virtual data rooms guide.
Other cases:
Most industries can benefit from using a data room providers for their business dealings, including:

Finance. The financial industry is one of the most regulated business segments. To manage and keep track of all the paperwork, a virtual dataroom software is very helpful for storing and organizing files.
R&D departments. While creating new inventions and developing patents, a virtual data room helps to share files in a secure environment.
Fundraising. Charities and non-profit organizations can benefit from this secure cloud storage service. Sharing documents or other related information with potential investors can be done safely in a digital environment.
Medical companies. Medical institutions regularly handle and share mountains of confidential, personal, and sensitive information. This data, often in the form of lab results or medical records, can be handled securely using a virtual data room.
What to include in a virtual data room?
The files to upload to the virtual data room differ depending on your needs. For instance, the package of documents prepared for investment bankers will greatly differ from files for improving the collaboration on the team. Still, let's define a few common categories of documents to share in a virtual deal room.
1. Basic corporate documents
Here, you should add all the company-related files. For instance:
Business permits
List of subsidiaries and percentage of ownership
List of current directors and officers
List of jurisdictions where company can do business
Franchise details (If any)
2. Financials and taxes
Everything about finances in your company should be added. A few examples:
Loans notes
Accounts payable schedule
Letters from auditors
Monthly and quarterly financials
Capital leases
Information about cash flow
Pricing policy
3. Capital stock
Think of adding such documents as:
Shareholder list
Voting agreements
Registration and management rights agreements
Buy-sell agreements
Stock certificates
4. Securities
This category of documents includes everything security-related: from proxies to security law permits.
5. Marketing materials
What is used for your company's marketing and PR needs? Some possible documents to upload are:
List of customers
Sales plan
Product road maps
Industry reports
Recent product campaigns
6. Intellectual property
These are a few examples of what to add to a virtual data room:
Patent applications
Summary of patents
Software license agreements
IP litigation summary
Trademarks
7. Manufacturers
This category includes all the materials about the list of current manufacturers and suppliers, as well as manufacturing and supplier agreements.
8. Legal documents
All the notes about litigation, insurance, and licenses should also be added.
9. Information about the team
Think of uploading data about your employees:
List of all employees including information on their salary, date of hire, position, etc.)
Bonus plans
Employment agreements
Benefit plan summary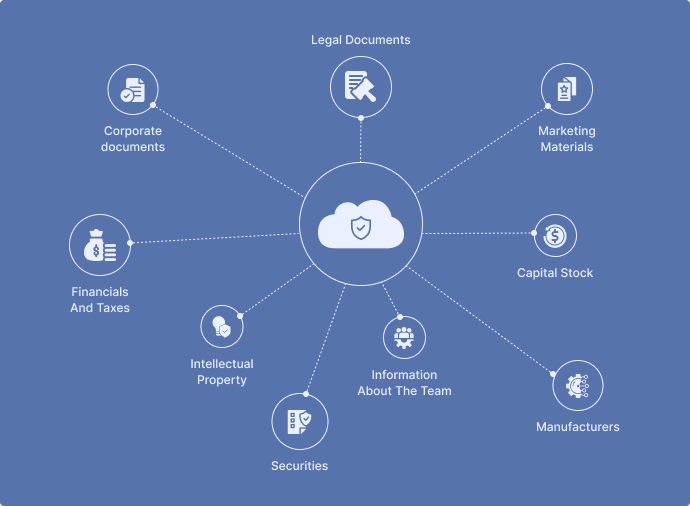 Choosing the best virtual data room software
Virtual data rooms are here to stay as they broaden the horizons of global dealmaking for Indian companies and individual entrepreneurs. It is critical for the deal processors to be aware of all available choices and pick the best-suited data room provider to meet the company's needs.
The good news is that there are multiple established virtual data room providers for any industry and budget. Simply use the tips from this guide to compare the suitable options and go with the one that aligns with your strategic vision.
Virtual Data Room Comparison