Basic Facts About Virtual Data Rooms in India
What is a virtual data room?
A virtual data room is a business tool that allows companies to upload corporate documents to a secure online repository to keep them safe, organized, updated, and easily accessible. It's a digital workspace that simplifies and accelerates business processes and improves teamwork.
Quick facts about data rooms
Physical data rooms exist since the 19th century. And as the internet became a part of our lives, this service became digitalized.
A first data room emerged at the beginning of the 21st century as a digital solution for due diligence.
Today virtual data rooms can help businesses in much more different situations than just basic due diligence as the set of features became quite wide.
The primary purpose of a data room is to allow businesses to digitalize their documents and share them safely with third-parties when needed.
Virtual data room use cases
Advanced dataroom can support companies not only during due diligence or M&A but during IPO, restructuring and bankruptcy, fundraising, and other business processes firms go through all the time.
Each company can find its unique use for a data room. Real estate agencies, for example, can share files on properties with potential buyers to increase the chance that they will be interested in the offer and reduce the amount of time and effort a deal requires. And life science firms can share necessary files with interns or seasonal partners and revoke the access rights once the collaboration is over.
Virtual data room features
Data rooms support such complex processes with a lot of different features. Their number varies depending on a provider, but you'll definitely have: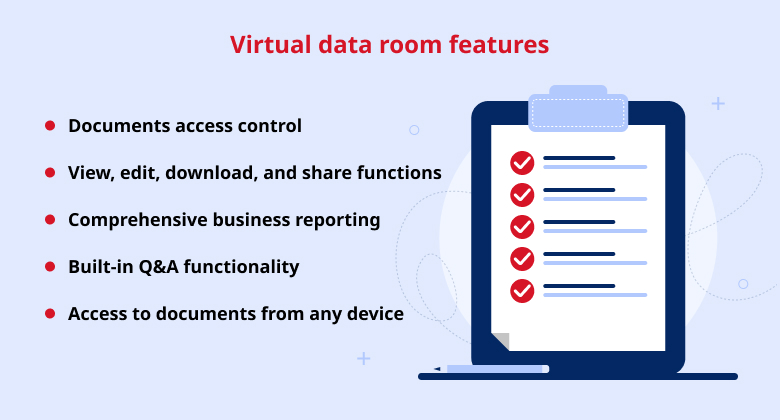 Control over who can access documents, view, edit, download or share them
An opportunity to protect your files with watermarks
Reports that will let you spot suspicious behavior or get useful insights
A Q&A section for parties to quickly find answers to their questions
An ability to access files from any device
That's only a bare minimum of data room features. Most providers such as iDeals, Intralinks and others offer many more functions.
Modern data rooms are cloud-based, and you don't have to install them on a computer if you don't want to. For mobile devices, however, providers usually offer dedicated apps that will offer you better user experience. Although you can access the virtual data room using your mobile web browser, too.
Detecting the Best Players: Top Data Room Providers
When it comes to business, the involvement of several international players in one deal is rather a rule than an exception. In such conditions, an uninterrupted flow of communication becomes crucial. The easiest, the most efficient and secure way to do it is to open a virtual data room. It simplifies sharing data online and allows deal-makers to keep an eye on the project even when they are far away from their partners.
These days, it might be pretty challenging to select the ideal platform: dozens of vendors might seem to be identical from the first sight. Our mission is to guide inexperienced users through the world of indian VDR providers.
India proves to be a rather fertile area for the dissemination of data room services: lots of local companies collaborate with large international corporations and work as outsource supporters for the more developed markets. In such conditions, data rooms seem to be indispensable: they guarantee that indian businessmen may not fear to share data with their international partners as the rooms are highly protected and eliminate almost all the risks of data leakage and misuse. Moreover, it is more convenient to run any project online than to manage it from time to time via email and occasional face-to-face meetings.
Top data rooms:
We realize the importance of VDR exploitation within indian market but, simultaneously, we understand that the selection of an ideal platform is not the easiest task. For this reason, we came up with our own virtual data room comparison that is supposed to help local businessmen to find the best repository for data storage and exchange.
Software review sites and blogs. To detect the key players in the market we examined numerous top-lists and looked through the reviews of the former and current users of virtual rooms.
Objective customer feedback. The feedback from real customers is the most valuable source of information as it helps to understand whether a vendor is capable of keeping the promises given and whether the room is convenient for certain types of projects.
Deals and use cases overview. We analyzed what kinds of deals were executed via the platforms to grasp a specialty of each vendor: some providers focus exclusively on M&A transactions while the others are ready to assist throughout a wider range of deals.
Software test. Also, we checked trial versions offered for free by VDR providers: it is hard to assess a platform adequately if you have never seen it in action.
On the basis of information gathered, we managed to come up with our list of the most sophisticated and decent data repositories that can be found in India. This selection is expected to simplify the life of those who are looking for a functional environment for deal-making but who have no idea where to start.
The Main Data Room Features and Spheres of Application
Originally, data rooms were meant to be used for merger and acquisition transactions because they offer top-notch data protection:
all the documents uploaded to the room are encrypted
each file contains a dynamic watermark
firewalls and regular virus scanning helps to reduce the risk of malware attack
However, security is not the only advantage of the best data rooms.
To underline the beneficial traits of such platforms the following functions should be mentioned:
The right to ascribe specific accesses to certain visitors of the room helps its administrators to manage the flow of users and to keep an eye on their actions. It is doubtful that you would be willing to disclose all your files to all your partners, employees, investors, etc. – it is better to divide them into groups and to share only the relevant information.
Even if the room is being exploited only for internal purposes such as management of cooperation between several teams, it is important to monitor the actions of employees. In analog world it would be rather challenging to check each person, to make a list of files viewed, copied, printed, etc. But for a virtual service it is not a trouble: due to activity tracking tool, the room administrator receives an in-depth log of all the actions that took place inside the repository within the certain period of time. It allows the owners of the room to control the visitors and to make sure that they do not violate any rules or security restrictions.
It is usual for deal-makers to maintain a dialogue via email or via instant messengers when it is inconvenient to agree on a face-to-face meeting. But these means of communication prove to be rather insecure: hackers may easily break into the system and steal the data shared via email. That is why Q&A module inherent to cloud-based repositories is an excellent solution for interaction. Being a part of the room, it is protected on multiple levels. Moreover, it allows the participants of the deal to maintain uninterrupted discussion directly within the room.
The features mentioned explain why the industries that exploit virtual data rooms are unlimited today. No matter what you're focused on – be it law, clinical studies, fundraising or governmental work – the possibilities of Virtual Data Rooms make them suitable for any sphere that requires data protection and remote collaboration. Hence, it does not matter what kind of business you have: if you feel the need for electronic data room then you should start looking for an ideal platform that would make your deals run smooth.
Learn More About the Best Virtual Data Room Providers
Virtual Data Room Pricing
Virtual data room pricing is a question of concern to potential users. Not all providers present full information about tariff plans on their official websites. Indeed, it may vary depending on:
the level of guaranteed security,
availability of storing and managing documents tools,
opportunities managers get to control work processes,
functions to maintain communication within an organization and with business partners.
The client's needs are decisive in this matter since virtual data room software is customizable. Companies order a different number of:
workspaces,
administrators entitled to giving permissions and tracking activities,
virtual dataroom users.
It is worth noting that storage size, quality of technical support, and other features also influence pricing. Extra charging for new members or more options is possible. Thus, it is recommended to discuss the issue in advance. You should know what your organization will get for the money invested in the product.
Top 5 Important Data Room Trends of 2021
In the beginning, VDR was simply a virtual repository for the corporate files of the organization. But today it is a standalone business tool that doesn't just keep documents safe, but improves the workflow, too. And it has changed the way we used to hold deals forever. So it is crucial to understand the trends of the dataroom industry if you want to succeed in Merger and Acquisition processes.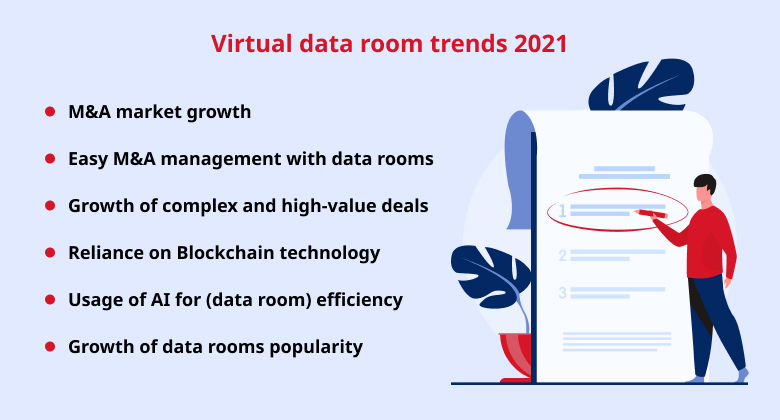 The value of deals grows – and so does the data room market
More and more companies take risks and get involved in deals. As a result, the Merger and Acquisition market expands, offering more interesting opportunities for businesses.
It would be logical to assume that these tendencies impact the data room industry. But if you look at the situation from another point of view, you will see that virtual data rooms undeniably make it easier for companies to go through deals and close them successfully. So it is the "what came first" situation.
The data room industry pushes the Merger and Acquisition market forward just as much as the M&A deals held by companies force data room providers to improve their software.
The adoption of data exchange software increases
If several years ago, company owners didn't trust virtual data rooms much, today things are completely different. We're more used to keeping our data online, and it doesn't look too scary to upload corporate files to the secure cloud storage and share them with the participants of the deal via the internet.
This tendency will definitely result in more M&A deals since it is way easier to share the documents now. Also, since the process of data exchange is simpler, deals will become more complex, large-scale, and high-value. Actually, we can already see this trend.
There are less small deals and more large ones
It's safe to assume that the virtual data room is the reason behind this trend. Since it is more effortless for companies to share the required information, they can process way more documents. Therefore, they can conduct more complex and high-value deals that involve way more funds.
Blockchain technology
Virtual data rooms are rather secure, since most of the providers use reliable bank-grade encryption. However, blockchain technology can make data rooms even safer. And some vendors have already adopted it and made it a part of their software. So in the nearest future, we can expect to see more providers enhancing their data rooms with blockchain.
Artificial Intelligence
Even though it's not a new feature for the VDR industry, we can expect it to become more advanced. Today most vendors implement AI to offer users better statistics with useful insights. But some of them already automate certain processes with the help of Artificial Intelligence.
Therefore, quite soon, we will have data rooms that will do most of the things for us, allowing businesses to focus on the deal even more.
In general, data rooms will improve technically to make deals even more easy and swift for companies around the world.